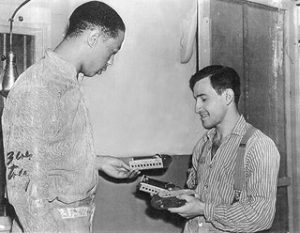 This website is dedicated to never forgetting a gentle man with an intellectual disability who was wrongly convicted and executed for a crime he never could have even begun to commit.
 Arridy was born to non-English-speaking immigrants fresh from Syria. A public school principal expelled him after his first year. A professional labeled him "an imbecile with an IQ of 48." Neighbors viewed him as a pariah. Other children targeted him for bullying. Then a district court judge committed him to a "State Home for Mental Defectives" where he lived during his teenage years. At age 22, he jumped on a railroad boxcar passing the institution. After that, most of his whereabouts remained unknown – until he was arrested for vagrancy and was coerced into confessing to a horrible rape and axe murder. The real perpetrator had been apprehended and the weapon had been recovered in his home – but he refused to confess to the crime. Then a sheriff claimed that Arridy was with the killer. This "completed" the investigation. Both were convicted and sentenced to death.

     On death row, Arridy received amazing amounts of understanding, support and kindness from the warden, guards and even other death row inmates. The warden told reporters repeatedly that "Joe Arridy is the happiest man who ever lived on death row."
     The warden enlisted a famous Denver attorney, Gail Ireland, in the fight for Arridy's life. The lawyer managed to get at least nine stays — before the governor called and ordered that Arridy be killed.
     We believe that what happened to Joe Arridy amounts to one of the worst miscarriages of justice in the history of our country.
Friends of Joe Arridy
On January 7, 2011, Colorado Governor Bill Ritter pardons Joe Arridy! To read the official press release from the Governor's office with the posthumous pardon, check out  https://friendsofjoearridy.com/OFFICEOFGOVpressrelease.doc.
Contact webmaster Attorney Anne Treimanis at [email protected]